After almost three decades of working for multinational company McDonald's, Adie Twining reshaped his career during the pandemic and swapped his corporate life for a new venture in the education sector. Already involved with two local Hampshire children's charities and wanting to do something that improved the life chances of young people, it became an obvious solution to partner with Tutor Doctor when the opportunity arose.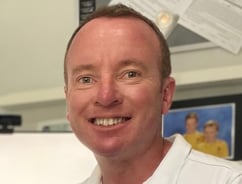 Launching his Tutor Doctor franchise in May 2021 in the south of England, covering Salisbury and Southampton, Adie set about applying his energy and experience to building a thriving business he could be proud of.
In his first year, he is already making a profound impact in his local community, working with many families and achieving a better work/life balance with a sense of pride and satisfaction that he has always dreamed of. He has also been able to retain his involvement with his local charities, Simon Says and Ronald McDonald House Charities, both of which are very close to his heart.
"I've always admired Tutor Doctor from afar," explained Adie. "With an outstanding reputation for innovation, as well as supporting franchisees and delivering excellence, the franchise was an easy choice when it came to investing in my own business. From my first contact with the brand, I could resonate with the company's values, ethos and passion and felt confident that it provided a well-established entrepreneurial formula that would enable me to make a success of my own business."
Having lived in Southampton for 30 years, Adie was well equipped to begin his journey with the know-how and determination to get going. After graduating with a Business Studies degree from Southampton University, he started working for McDonald's and worked his way up the corporate ladder to become Director of Franchising, where he was responsible for designing and implementing franchising growth strategies. It was not until the pandemic hit, coupled with his family commitments, that he switched his successful corporate life of 28 years to take it on from a franchisee's perspective.
"One of the best things about buying into a franchise opportunity is that you don't have to reinvent the wheel to be successful as the systems are already there. With my existing understanding of franchising and seeing the importance of following a proven system, I have made a huge amount of progress with my tutoring business – something I would not have been able to do if working independently for myself. I really value being able to operate within a framework but with my own spin on it and am committed to providing an exceptional customer experience for all my students.
"I underestimated the reward I would receive from this job and the satisfaction and sense of partnership you get from being part of a team, working with tutors, students and their families. As my career progressed, I really missed being part of a team - my fondest memories at McDonald's were when I worked in their restaurants! My priorities have also changed over the years, and the pandemic allowed me the time to reflect on what matters most – giving back whilst also having a commercially viable business so I can provide for my family now and in the future."
Adie was equally impressed by the sense of community among the franchisees and eagerness to support each other, even during a time when they could not come together in person. Combining the knowledge he learnt from training with his past experience and the expertise of the rest of the franchisee network, he knows he is in a good place to grow a successful business.
Adie and his wife, Tracy, feel they are very lucky to have both been brought up by parents who understood the value of a good education and supported them to fulfill their potential. The couple have tried to do the same with their three children, each of whom has benefitted from private tuition in the past to build upon the learning they have received in school. They have seen first-hand the difference that this has made to their academic achievement and self-confidence. So at Tutor Doctor they are using the skills they have developed in their previous careers to further enhance the learning experience for students and change the trajectory of their lives.
"We have worked hard to attract an outstanding group of local tutors. They share our vision and are fully committed to delivering an outstanding learning experience for the young people whose parents entrust us with their education. Not only do they provide support on specific curriculum content, but they also help their students to build confidence and develop the skills required to become lifelong learners.
"Working in the community means the world to me. Having moved to Southampton from Cornwall, I feel my roots of 30 years are here. I have a lot of love and pride for the region, and it makes you feel great to be making a difference at home. I've been able to already help so many local families and children. Schools are doing a great job, but with the learning loss from the pandemic, they are under pressure and we can help support students, families and schools with this catch-up. As a local resident, that means a lot to me."
Adie has ambitious goals for his franchise and would like to expand into other towns and cities over the next five years, but only when he feels he knows the business inside out. He would also like to bring his wife into the business, making use of her HR and training skillset, and once retired for one of his children to take on his legacy.
"The education sector and our clients have embraced me with open arms, and I'm so pleased that I made the move when I did. I'm really excited about my future and being able to empower as many students as possible to achieve their full potential – being able to equip them with all of the tools they need to succeed in school, in work, and in life is how I will measure the success of my franchise."