Posted on:
January 30, 2023
Going down in the Tutor Doctor Hall of Fame is no easy task! Our franchisees work hard and have results to show for it.
The Hall of Fame award is presented to select past and present members of the Tutor Doctor family who have demonstrated the highest level of commitment to the success and legacy of the Tutor Doctor brand. They epitomize our values as entrepreneurs, ambassadors, mentors, leaders and role models. They not only believe in making a difference… but "Being the Difference". This elite group is characterized by dedicated individuals who see opportunity in every challenge, who inspire us all to seek greater achievement, and who eagerly share their experiences so that others may benefit from their success.
The Winner of our Hall of Fame Award Is…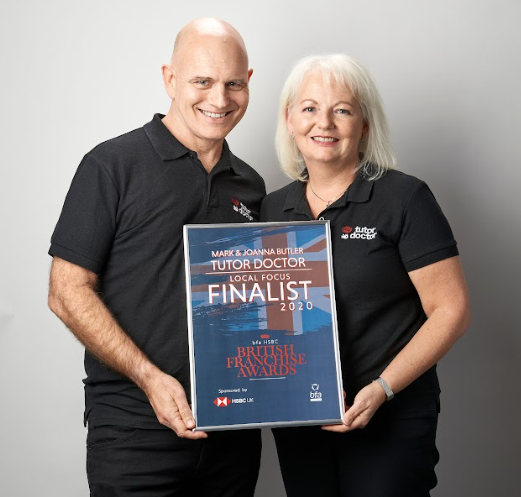 Mark and Jo Butler of Tutor Doctor Reading Wokingham Maidenhead and Walton-on-Thames, Weybridge, Kingston-upon-Thames, UK!
Mark and Jo have had a massive impact on the Tutor Doctor franchise community in the UK, and globally. They are committed to helping their fellow franchisees and innovating the Tutor Doctor brand.
They have been trailblazers in the UK, setting high standards for the brand and demonstrating to others how to build success by putting in hours of hard work. They are idea generators, innovators and have been integral members of our Franchise Advisory Council who work collaboratively with our Head Office Team to enhance our tools and processes for their fellow franchisees.
Not only are Mark and Jo always there for others professionally, but they are equally there for them personally, too. If there's a business problem to solve or if a fellow franchisee has a question, they are always there to help.
Mark and Jo deserve the Hall of Fame Award for their many years of dedication and service to the Tutor Doctor brand and franchise community. Congratulations to you both!
Making a Difference
We are so proud of Mark and Jo and all that they contribute to the Tutor Doctor brand.
As a Tutor Doctor franchisee, you can leverage the support of your fellow franchisees in the network. We are delighted to have such a strong group of friendly, professional and helpful franchisees.
Do you think you would be a good fit for owning an education franchise? You can find out more about our franchise opportunities to see if it is the next best step for you!